Now we will get on to the actual installing of mods.
Any. package file you have downloaded will go in a folder called 'Mods'. This folder will not be there to start with, as you have to create it yourself.
If you go to the above path (Doc/EA/TS3/) you can create your folder. Make sure you use the correct capital/non-capital casing for the letters!
Now, if you were to put a package file inside the Mods folder, it wouldn't show up in the game and you'd be sat there wondering what you did wrong. For all .packages to show up in game, you need a file called 'resource.cfg' this is in the startup kit. Once downloaded, place this inside the Mods folder you created.
Now that we have that set up, we can now create another folder called 'Packages', (again the correct casing for the letters). Just place this folder inside the Mods folder.
Sims 4 support questions

Q:
My sims won't get naked during sex?
A:
The new versions of the FFM is a little more sophisticated now you can set the nudity option for each sim. To do this click your sim and choose wicked than select from the settings nudity options you can set it up in there.
Q:
Your drivable cars are not drivable!
A:
They are use your imagination.
Q:
But you can't drive them at all?!
A:
Welp blame EA for being so damn lazy and making the sims 2.5 instead of 4. You save up for them, place them (which look fantastic) than use them to travel instantly to a location. That's how it works in the sims 4 and it's the best I can do.
Q:
How do I install mods?
A:
First of all
WINRAR OR WINZIP IS REQUIRED TO EXTRACT FILES if you install them manually. CLICK BELOW TO DOWNLOAD.
After starting the game the 1st time the mods folder will be created in your C:\Users\yourname\Documents\Electronic Arts\The Sims 4\Mods. Place all package files into this MODS folder and do not delete the resource.cfg. If you do start the game again and it will regenerate. Than in your games options (top right corner of the home screen) select other options and make sure both enable mods AND script mods is checked. You will need to do this to enable any custom mods including skins and replacement textures to be used in the game. Everytime you install a new patch you will also need to do this.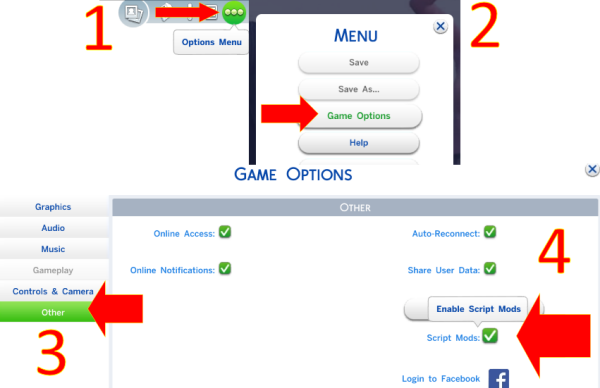 Q:
How do I install super nude and mod patch?
A:
Before you start make sure to enable mods see above
After downloading simply double click the EXE file and follow instructions. Virus scanners may detect the EXE file as an unknown EXE and flag it as a virus please ignore these warnings and if possible turn off all virus scanners before installing the EXE file is 100 % safe all it does is install the package files to their correct folders!)
When the screen to choose an installation folder appears it should have automatically scanned and detected where your MODS folder is which default is
C:\Users\yourname\Documents\Electronic Arts\The Sims 4\Mods
please make sure this folder is correct and update it it as necessary by clicking the change button and browsing for the mods folder (you may have to do this if you have the game installed on another drive that isn't your main one C:\.)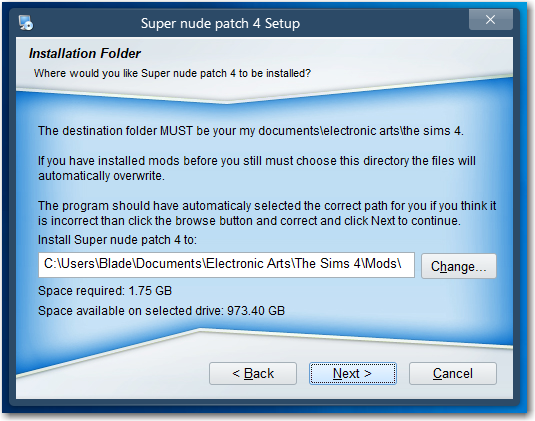 Now the screen to choose which files appears click the arrows to open drop down menus and select which mods you would like to install.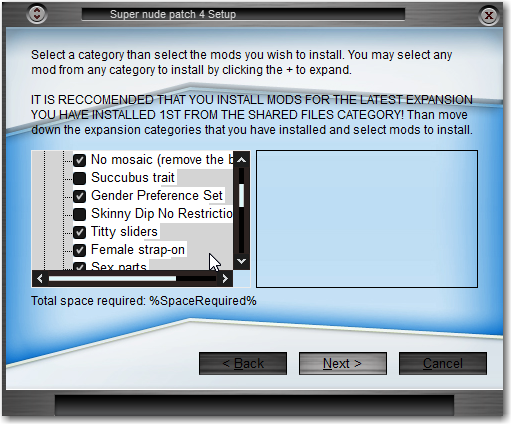 If you would like to install ALL the mods from one category than simply select the check box next to that category and all mods will be installed.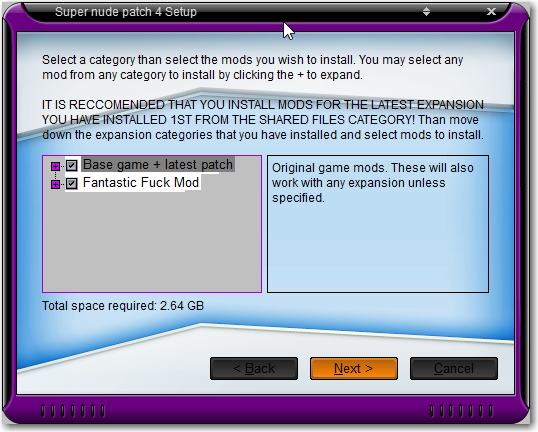 And that's it click the next button to continue and watch everything install in a flash in under 10 seconds!
The super mod patch is exactly the same however the mods are split into expansion pack categories if you are going to select all mods to be installed make sure you have that expansion pack installed 1st. Failure to have the correct expansion pack installed will result in your game experiencing errors and other unknown problems!
Q:
I can't find the skin overlays?
A:
IN CAS 1st click on your sims head. Next click the face tab and afterwards skin details. All overlay skins are in here select one to activate it. To remove sims clothing you need the nudist mode installed.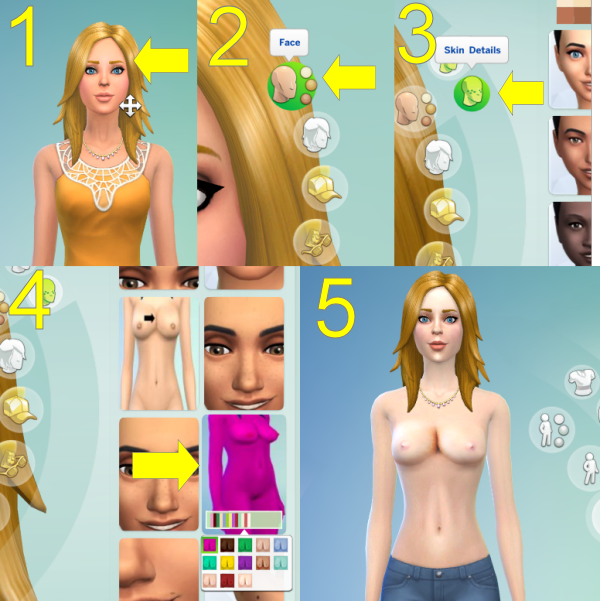 Q:
How do I install PY and PYO mods?
A:
Don't extract these simply place the whole zip file intact into your mods folder.
Q:
My sims look blurry especially when zoomed in?
A:
In your games graphics options make sure uncompressed textures are ticked. BUT be warned a fast processor and good graphics card will be required to handle theses new settings! Also in your game settings graphics options sims detail MUST be set to the highest settings.
Q:
My sims nude skins aren't showing up?
A:
In your game settings graphics options sims
detail
MUST be set to the
highest
settings.
Q:
My game crashes when i load it or other problems using mods?
A:
move your mods folder to the desktop, delete the game cache and the localthumbcache.package from the Sims 4 folder to help with troubleshooting (see below on how to do that.)
Deleting the cache files will remove all traces of mods and custom content that were tied to your game.
Launch the game again and try a new save to test - without the mods folder. If it loads and plays okay, it may be that some of the mods/cc have become outdated.
Testing like this will help determine if it's a mod issue, cc issue or a vanilla game issue. - Disabling or turning off both mod/cc options isn't enough of a test.
To fix mods and custom content try the 50/50 method:
1. Move all the mods and cc out into a temporary folder on the desktop.
2. Move a few files back at a time. Load the game to make sure it loads and everything is good.
3. Delete the localthumbcache.package from the Sims 4 folder.
4. Repeat steps 1 - 3 till there is no more files to check.
** While your testing, don't save the game. If you find any problems, delete the mod or custom content file.
How To Find Problem Mods and CC - http://simswiki.info/wiki.php?title=Game_Help:TS4_Finding_Problem_Custom_Content
Custom content can become outdated with most new game patches. If the game works when the Mods folder is removed, then one or more of the mods and/or custom content has become outdated and will need to be removed or replaced. Mods in the super mod patch are no longer being updated or maintained and will most likely cause problems is used. Any other mods that aren't working
please report them
!
Clearing The Sims 4 Cache
The Sims 4's game cache is located at Documents/Electronic Arts/The Sims 4/ on both PC and Mac.
1. Delete the localthumbscache.package file in this directory. This helps to "fix" some gameplay bugs.
2. Go inside the cache folder and delete all files that end in .cache, but do not delete the actual directory.
The .jpg files as well as the .dat that you find in the cache folder are safe to delete. These come from viewing households/lots from the gallery. If you play with the Online Access Feature turned off, or play offline, you may not have anything in this folder.
3. Go back, then to the cachestr folder. Delete all files here, but again do not delete the actual directory.
* It's okay to delete the spotlight.package file.
4. The onlinethumbnailcache folder is safe to delete IF it is present.
If you play in offline mode, you may not see this folder. However, if you forget to turn off Wifi before starting the game, you will see the folder. Same if you have the Online Access Feature turned off or play offline.
If you have an older Sims 4 folder that still has the cachewebkit file and lotcachedata folder you can delete them. They're no longer needed.
Embedded & Backup Save Data Cleaning
WickedWhims saves most of its data internally, embedded within your game save. Additionally, a copy of that save data is stored externally within the game 'saves' folder as a backup that's automatically used when the embedded data is missing.
To clean your WickedWhims save data, both internal and external, you only need to use a command.
To remove the WickedWhims save data, open up the in-game commands console by pressing the CTRL+SHIFT+C keys and typing the following commands, one after another:
ww.reset_save_data sim
ww.reset_save_data sex_handlers
ww.reset_save_data world
Once all three commands have been entered with a message of their success, save and exit the game